Advocacy
Shed the Shame 2021
It's tough to have a skin condition. The impact of living with a skin condition is much more than "skin deep", though. The weight on the emotional and mental health of people affected, and especially those who are children and youth, can be profound.

Imagine not being able to take a hot bath or shower, or go swimming with friends, or participate in your favourite sports. Imagine having to avoid wearing certain types of clothing and not being able to eat some of your favourite foods.

When you know better, you do better. The Shed the Shame campaign is dedicated to creating awareness of the social, emotional and mental health impacts of living with skin conditions, diseases or traumas. It is hoped that all Canadians will have a better awareness of all the effects of skin disorders and can be more sensitive toward and connected to individuals with one.
The 2021 Campaign aims to take those quiet whispers about people living with visible skin conditions and bring them out into the open and encourage conversations! So #ShedTheShame and click on the image to share your story.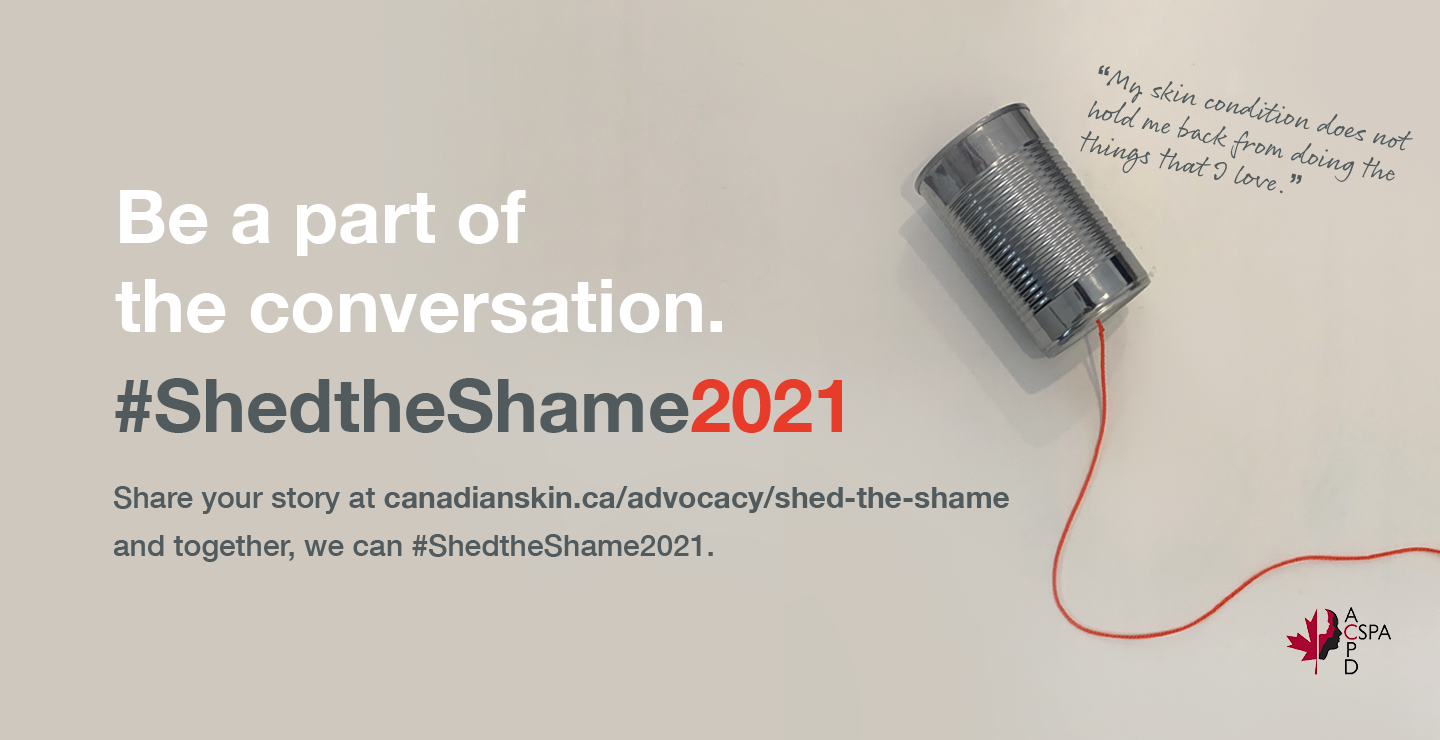 Acknowledgments
The Canadian Skin Patient Alliance is grateful for the support of the following for helping make this campaign happen.
| | |
| --- | --- |
| | The students of DIG Agency in Algonquin College's Advertising program |
2020 HS Report
Hidradenitis suppurativa (HS) is a devastating inflammatory skin disease that produces discharge and a foul odor from many acute and chronic lesions. Up to 4% of Canadians live with HS. The painful lesions that are characteristic of HS appear in the skin folds, which makes activity and wearing comfortable clothing very challenging. It is often mistaken for boils, ingrown hair, a skin infection, generally poor hygiene, or a sexually transmitted infection.
The CSPA launched Scarred for Life: 2020 Update – A National Report of Patients' Experiences Living with Hidradenitis Suppurativa in May 2020. The HS community has seen some gains since our baseline report on the disease in 2017 – for instance, the median time to diagnosis has decreased from 9 years to 7 years. However, patients continue to visit several different healthcare providers multiple times before receiving a diagnosis. Importantly, awareness about the disease continues to grow, but this is still a very long time for patients to wait to have their disease properly identified and open up the possibility of a tailored treatment program. HS is managed through a combination of surgery and medications, including one biologic available to treat HS in Canada. Ongoing research into the disease brings the promise of better care and disease management. In the meantime, the disease continues to have significant impacts on the lives of patients. More than 4 out of 5 survey respondents reported that their condition had a negative impact on their work performance, their social lives, and their ability to be intimate with a partner.
Through this report, the CSPA has identified 11 recommendations to healthcare providers and policymakers that will improve awareness about HS and care and management of the disease and the lives of HS patients.
The Report
Knowledge and Translation
The CSPA presented a poster at the 2020 Symposium on Hidradenitis Suppurativa Advances. See the poster here.
The CSPA is pleased to have a poster accepted for the 2020 CADTH Symposium. See the Poster here and our abstract here.
The CSPA shared the findings of the report with the Canadian Pain Task Force as part of its consultation on a national approach to pain. Read the CSPA's message here.
Other Resources
We have several videos on our YouTube channel that we featured during HS Awareness Week 2020. Please follow this link to our YouTube channel to check out the following videos:
Election Position Statement
CSPA position statement* on appropriate access to care and affordable treatments for skin patients in Canada:
We believe that all patients living with conditions that affect the skin, hair and nails have a right to timely access to care and affordable treatment, as decided by their health care professional, in consultation with the patient. These decisions should not be based on where you live in Canada nor on your financial means. No one should be denied the care they need because they cannot afford it.
We believe that the process of bringing new treatments to market takes too long and is too complicated. Once a drug is deemed effective and safe, it should be readily available to those who need it.
We believe that health care professionals need a range of medication options to treat patients appropriately. A treatment that works for one patient may not work for another. In many chronic skin diseases, the body can build up a tolerance to a 'tried and true' medication over time and thus new ones need to be continually available.
We believe that the "step process" for treatment coverage can put undue hardship on the patient and on the health care system. If one is living with a moderate to severe condition, it is clear that a topical will have limited effectiveness and that the health care professional should be allowed to accelerate the steps without compromising coverage.
We ask politicians to consider these issues as they implement changes to the health care system while meaningfully engaging patients in these changes.
*Position statement developed specifically for upcoming provincial/territorial elections
Approved by the CSPA Board of Directors in May 2018
National Pharmacare
Implementation on National Pharmacare
The Advisory Council on the Implementation of National Pharmacare, headed by Dr. Eric Hoskins, was tasked to lead a national dialogue on how to best implement national pharmacare in a manner that is affordable for Canadians and their families, employers and governments. The final report has now been released (https://www.canada.ca/en/health-canada/corporate/about-health-canada/public-engagement/external-advisory-bodies/implementation-national-pharmacare/final-report.html.)
The Canadian Skin Patient Alliance is happy to see that ideas have been put forward to address the implementation of universal drug coverage for all Canadians. However, we believe that more emphasis needs to be on the overall impact on patient outcomes, less on cost savings and more detail in terms of how the transition will take place. National pharmacare needs to be integrated into the total healthcare system not treated as a separate silo and be flexible enough to accommodate innovator medicines for all skin diseases.
In response to the final report, here is the CSPA's Position Statement on National Pharmacare:
The Canadian Skin Patient Alliance is in support of reforms to the way that patients currently access medications in Canada. In order to achieve our mission of "improving the quality of life of Canadians living with skin conditions, diseases and traumas", an effective pharmacare program is essential to ensure that patients have timely access to medications regardless of income, age, disease or postal code, so that "no one is left behind."
We believe that the overall aim of a National Pharmacare program must be focused on improved patient outcomes as opposed to a cost-saving exercise for the health care system.
We believe that patients deserve equitable and timely access to medications that enables one to function in day to day life, be mobile in a comfortable way, lead a full and productive life and be able to contribute to society.
We believe that a National Pharmacare program must be affordable to patients, meaning that any out-of-pocket expenses, co-pays and deductibles must be minimized.
We believe that changes to the current system must be prepared with adequate consultation, carefully executed, and remain sustainable in the long term. No patient should face temporary or permanent gaps in coverage as a result of the implementation of a new program.
We believe that any new system must be flexible and leave room for new innovator medications and allow for patient choice.
Draft: March 8, 2019
Approved: May 17, 2019
Subcategories